Good Meat BreakdownFindingFind a Farmer
Find a Good Meat® Farmer
There are so many different ways you can find a local meat farmer or rancher who aligns with your Good Meat® values. Let's go.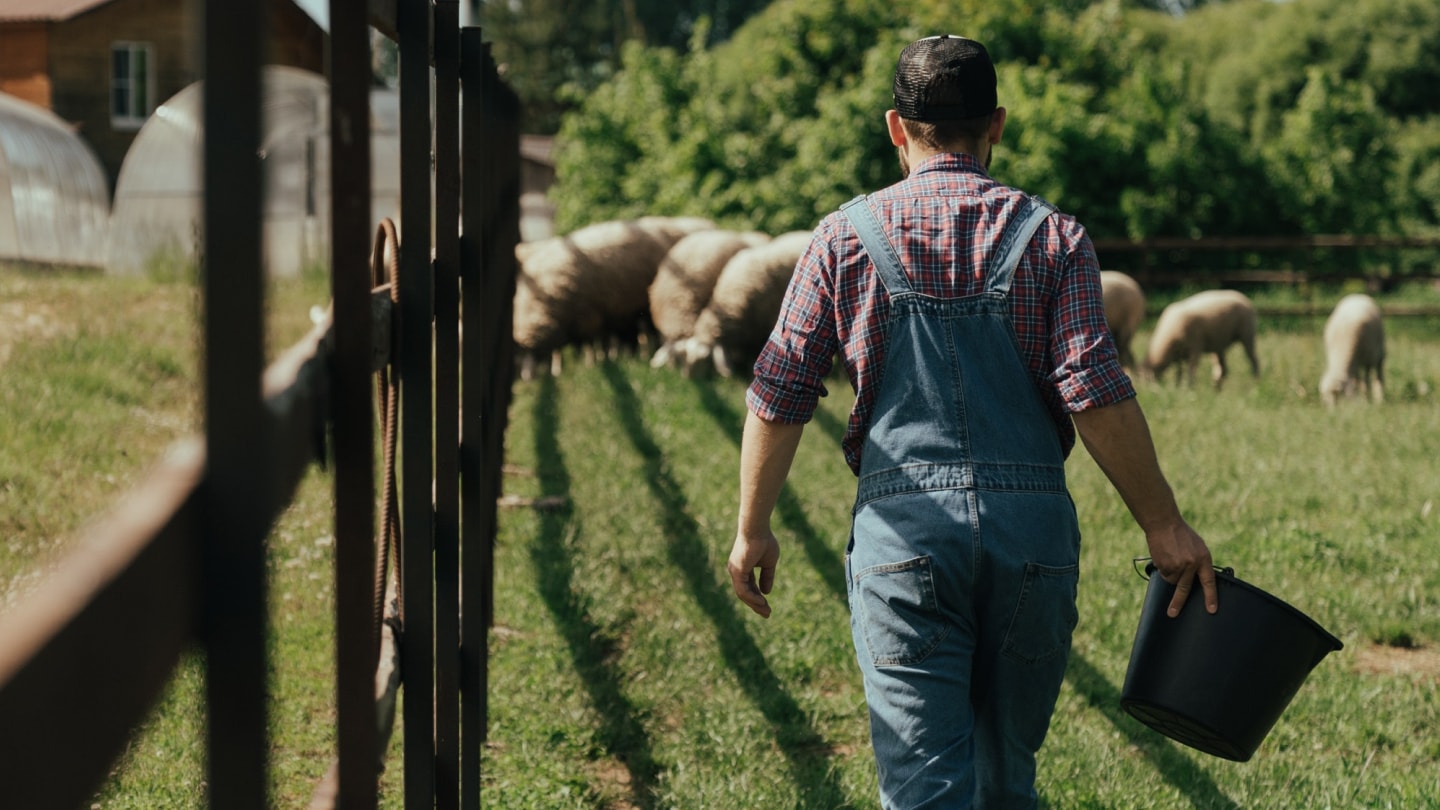 You're interested in buying meat from a farmer, but where do you go to find a farmer who aligns with your Good Meat values? Here are a few places to look: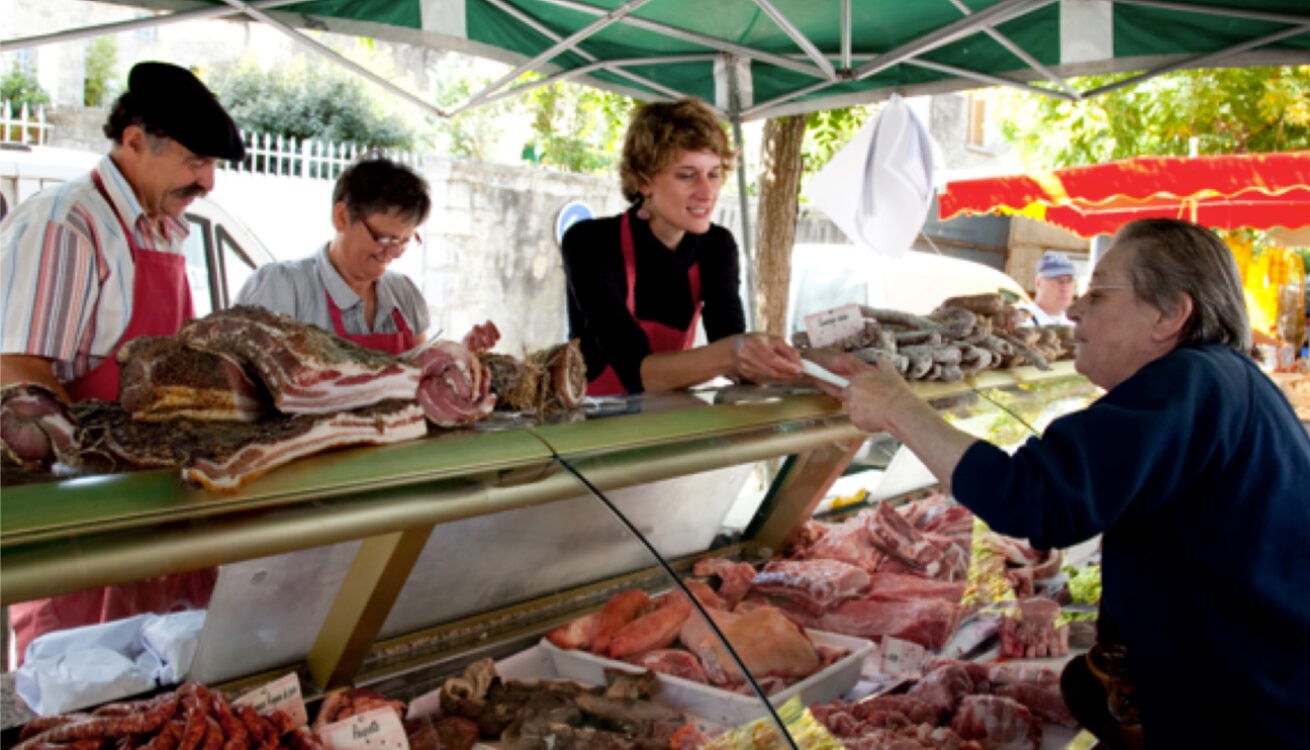 Finding Meat at Farmers Markets
If you have access to a local farmers market, that's a good place to start your search. Many farmers markets provide a directory of their vendors online, so you can even do some online research before your visit.
Some initial questions for Farmers Market meat vendors could be:
Where are they located?
How do they raise their animals?
Do they only sell individual cuts at the market or will they sell you a share? Do they raise all their own meat or do they buy meat from other farms and resell? And if so, who are the other farmers?
Do they deliver to your area?
At some point, you might move on to more detailed questions like:
Are your pigs fully pastured?
Or, what's your take on grain-fed versus grass-fed beef?
Buying a few cuts from a farmer at a farmers market is a great way to sample meat before buying a bulk share. To find a nearby Farmers Market, check out the National Farmers Market Directory.
(Psst: See that fresh meat case in the photo? Meat vendors at farmers markets in the United States don't usually look like this. Why? Because they are, typically, only legally allowed to sell individually packaged, frozen cuts out of coolers. This picture was actually taken in France. But, hey, we can keep dreaming.)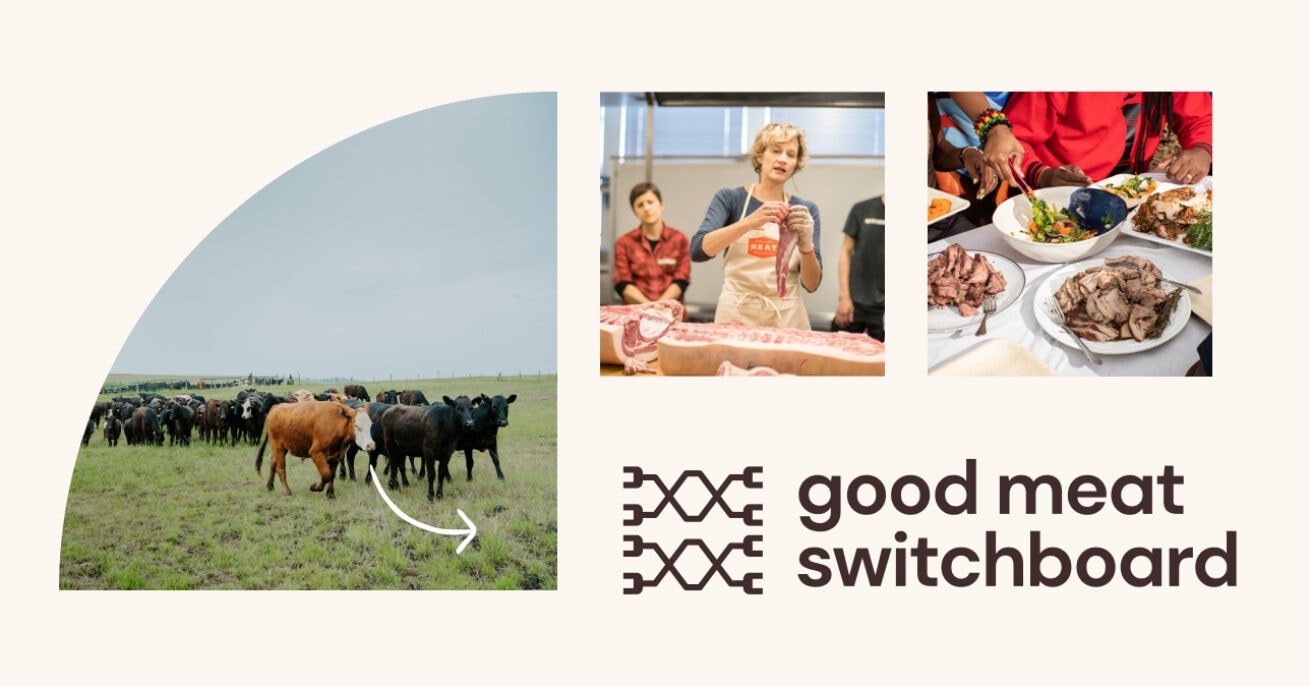 The Good Meat® Switchboard
Join the Good Meat Switchboard, where Good Meat® producers from all over the United States offer their meat shares and à la carte products to consumers. You will also find Good Meat® butchers and processors who source from our Switchboard community of farmers and sell directly to consumers. And you'll find other like-minded consumers ready to swap recipes and Good Meat® advice. You can join the Switchboard (it's free!) to see what's being offered by other members, but you can also make your own specific ask, if there's something particular you're looking for, be it meat, recipes, sausage making equipment, or butchering advice.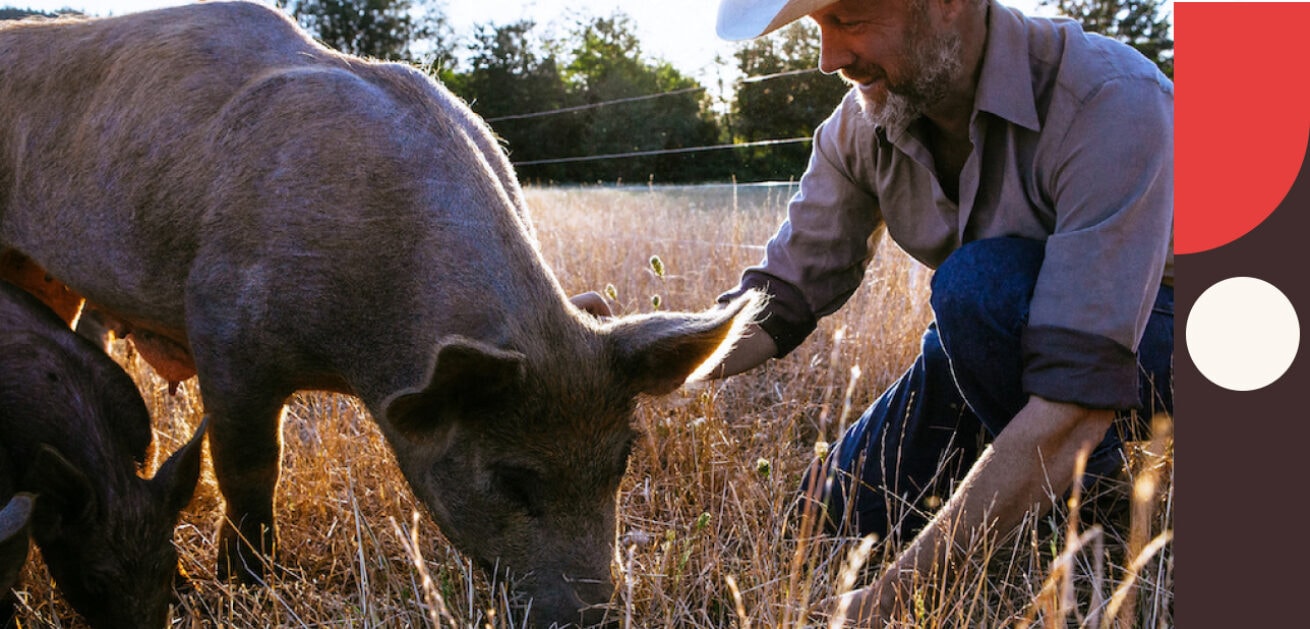 Find a farmer online
If farmers markets or our Switchboard don't render the results you're looking for, search online. When you find a farm you think might be a fit, find a way to ask questions, especially if their website doesn't answer them for you (not all farmers have the time or the resources to build exhaustive websites). Below you'll find the most useful online resources. Not all are meat-specific, so you may have to filter your searches based on what you are looking for (i.e. grassfed beef, pastured pork, etc.), or you may have to do a lot more detective work than you bargained for. Here are some national databases that we like:
American Grassfed Association: When the USDA introduced their definition [for grassfed] in 2006, AGA's producers and board decided to develop a more stringent standard. The AGA certification program and standards were introduced in 2009. Since, the USDA has dropped their definition and AGA's standards and certification has been recognized as the leading definition and standard for grassfed meat and dairy production by multiple industry leading organizations. The AGA maintains a database of all the farms and ranches who have been certified by AGA.
ASPCA Certified Farms By State: The ASPCA maintains a list of farmers that are certified by Animal Welfare Approved (AWA), Certified Humane (CH), or Global Animal Partnership (GAP) Steps 2 and above. If animal welfare is a priority for you in your Good Meat journey, this list could be a good entry point. Keep in mind that just because a farm has one of these certifications does not mean it is employing other practices like regenerative agriculture or organic certification, for instance. There are also plenty of farms who opt not to seek certification but who follow the same animal welfare standards.
Regenerative Farm Map: Regeneration International's mission is to promote, facilitate and accelerate the global transition to regenerative food, farming and land management for the purpose of restoring climate stability, ending world hunger and rebuilding deteriorated social, ecological and economic systems. They have created a map and database of regenerative farms and other food endeavors around the globe. You can search by product (beef, rabbit, goose, pig, etc.), by state or zip code, and/or by keyword.

Eat Wild: This site allows you to search solely for grassfed meat, dairy, and eggs by state. It also provides a lot of basic education about meat production. The site has national and international search features, as well.
Local Harvest: You can filter your searches by location and buy meat on this site. You can also search specifically for CSAs and farmers markets in your region. And you'll find a lot of other locally produced food sources, too.
Farm Aid: Farm Aid, a national organization, maintains an exhaustive resource page titled "Find Family Farm Food." The page includes links to national and state family farm databases that you can link to and peruse.
Get Real Chicken: Get Real Chicken, a project of the American Pastured Poultry Association, is an online resource that helps you find local farmers who produce pasture raised poultry, allowing the animals to live outside on fresh pastures. The site also offers in-depth, helpful guidance when it comes to definitions, discerning the difference, for instance, between "pastured" and "free-range."
Meat Mercantile: Created by a Montana Rancher looking to expand the marketplace for fellow meat producers, Meat Mercantile is an online, interactive marketplace that promotes ranchers who sell meat direct-to-consumer. The site connects consumers to real-life ranching near them and is free to both ranchers and consumers.
Soil Centric: Soil Centric vets and maintains their own list of regenerative farmers and ranchers who ship products nationally, as well as producers who focus on a more localized community supported agriculture (CSA) model. For their "Buy Direct from Regenerative Producers" list, they focus on pastured dairy and meat, as well as regenerative produce operations. Their website also offers a lot of other education and resources for anyone interested in learning more about regenerative agriculture.
HMI's Community Map: This resource from Holistic Management International lets producers across the globe to plot their farms and ranches on a map so consumers can find meat (and more) close to where they live. Some share more information about their operation than others, but this is a great starting point for consumers who prioritize holistic land management practices.
Groundwork Collective: Ground Work Collective is a search engine that helps people find meat that aligns with their values, near home. It offers special filter tools to find exactly what you may be looking for - from no-till farming practices to soy-free fed meat. Conceived by Kate Kavanaugh, founder of Western Daughters Butcher Shoppe and Ground Work Farms, and other figures in the meat and nutrition industries, this platform has highly customizable search features and options. find good meat near home. It offers special filter tools to find exactly what you may be looking for - from no-till farming practices to soy-free fed meat. Conceived by Kate Kavanaugh, founder of Western Daughters Butcher Shoppe and Ground Work Farms, and other figures in the meat and nutrition industries, this platform has highly customizable search features and options.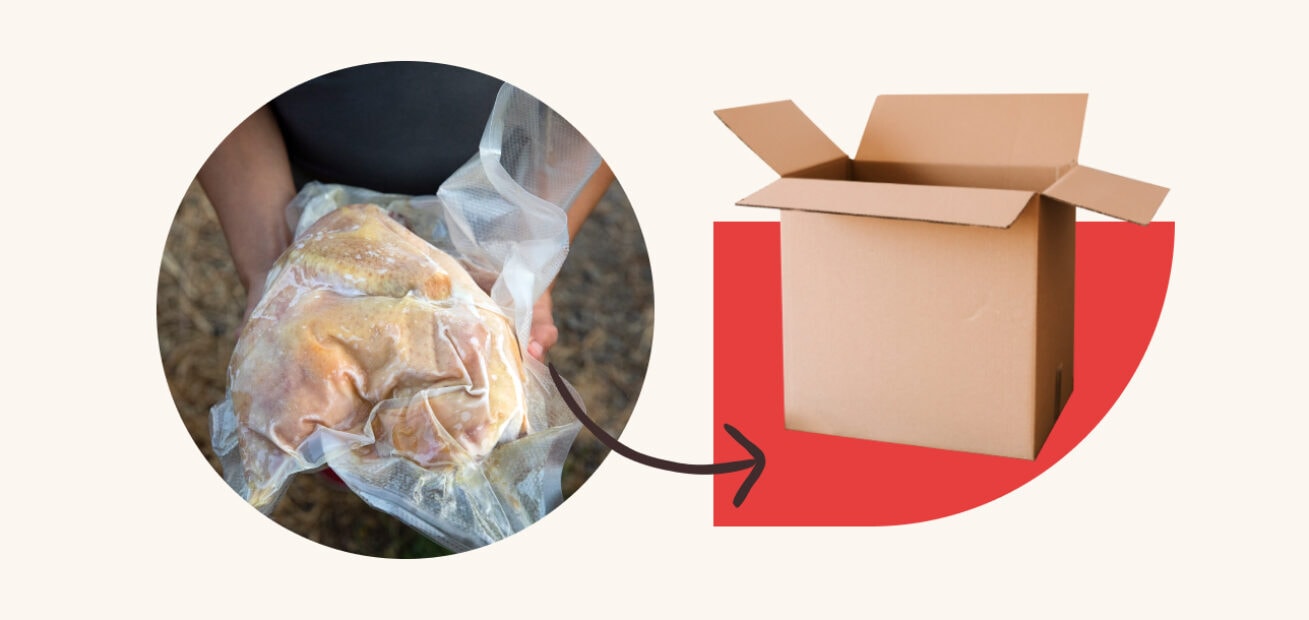 More Finding Options
How to find farms that ship or deliver
No farmers market? No time to drive to your nearest farm? No butcher nearby? Maybe front door delivery is the best or only option for you? Maybe pigs do fly? You'll find a farm that ships or that will hand-deliver to your front door through these great resources.
Niche Meat Processors Network
Niche Meat Processors Network has put together an evolving list of farms, ranches, and aggregators that ship by mail and/or deliver frozen meat. Most farms on this site utilize practices such as grass-finishing, pasture-raising, no sub-therapeutic antibiotics or hormones, and if they feed grains they are mostly organic or non-GMO. None of the claims are verified though, so please do your own research.

Some of the sales platforms that we mention below may also help you find farms that deliver straight to your door.
Find a farm sales platform
An increasing number of farmers are turning to online sales platforms that support farms who want to sell directly to consumers. As a consumer, you can use these sites to search for local farms and products by zip code, order and purchase food, and arrange for pick-up or delivery.
Wildkale: Wildkale is the first online farmers market where you can order your food directly from your local farmer, have it harvested or prepared on order and receive it the next business day.
What's Good: Currently available in 16 states, What's Good allows you to buy direct from local farmers, artisans, chefs and other vendors in your community with convenient delivery and pickup options.
Open Food Network: This is a global online marketplace currently available in 18 countries that levels the playing field. It's transparent, so it creates real relationships. It's open source, so it's owned by everyone. It scales to regions and nations, so people can start versions across the world.
Barn2Door: You can access real-time farm inventory, purchase food online, and arrange for pick-up and delivery on Barn2Door.
Harvie: Harvie connects you directly with trusted local farms who deliver shares of farm fresh products customized to your personal preferences.
Food4All: Food4All is specifically designed for selling CSA's, value added items, and farm/ranch goods to local communities.
1000 Eco Farms: This gives you easy access to local, farm-produced food through neighborhood food buying clubs and cooperatives as well as to a global online marketplace for local and natural food that you can buy directly from the producers online.
GrownBy: A cooperatively-owned online marketplace for farmers and ranchers to sell food locally, GrownBy makes it easy to find CSAs and shares near you. Farmers and ranchers receive 95% of their sales through the platform.ranchers receive 95% of their sales through the platform.
What's a cut sheet and how do you decide what cuts to buy from a farmer?

With this model, you're typically committing to buying a quarter, half, or whole carcass. Learn about how this works.

How Do You Cook the Meat You Buy From Your Farmer?

A farmer or rancher put careful thought and sustained time and energy into shepherding their animals from their farm to your table. Now it's your turn to translate that care into the kitchen. We're here to help!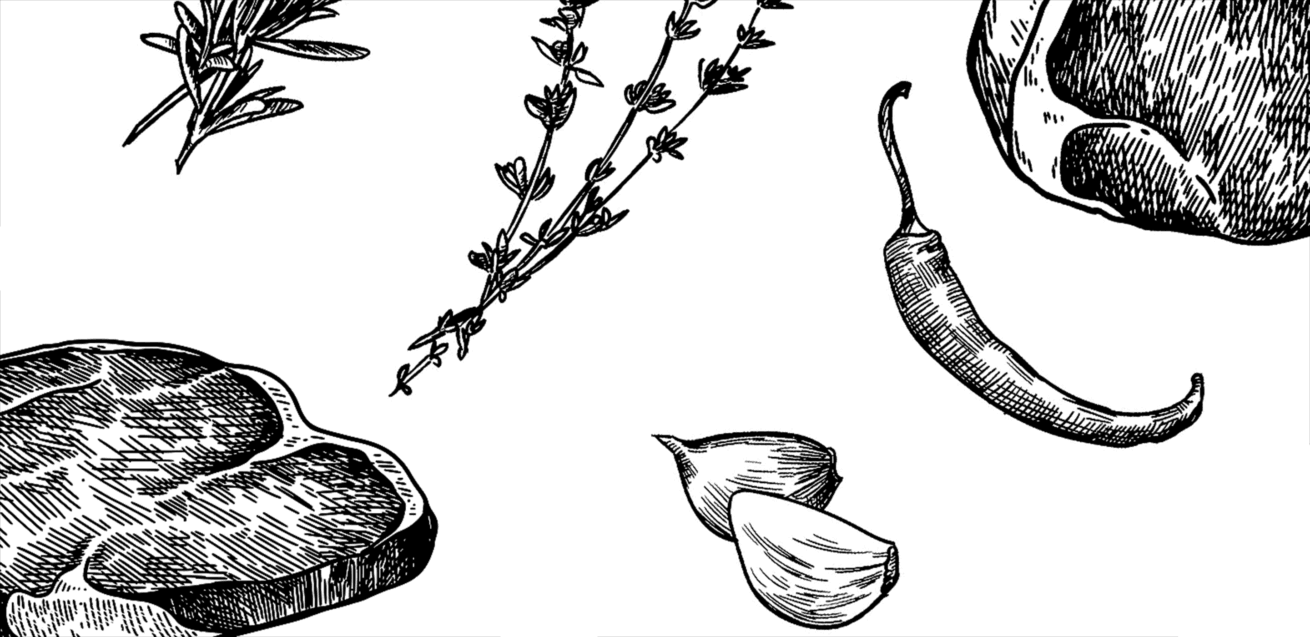 Let's do some good!
Sign up for our newsletter. We'll keep you informed and inspired with monthly updates.