Good Meat BreakdownBulk BuyingChoosing and Cooking Cuts
Lamb & Goat: Bulk buying, choosing cuts, and how to cook them
Curious about approximately how many pounds of rack, leg, and shoulder meat you get from a whole lamb or goat? And how to cook all that meat?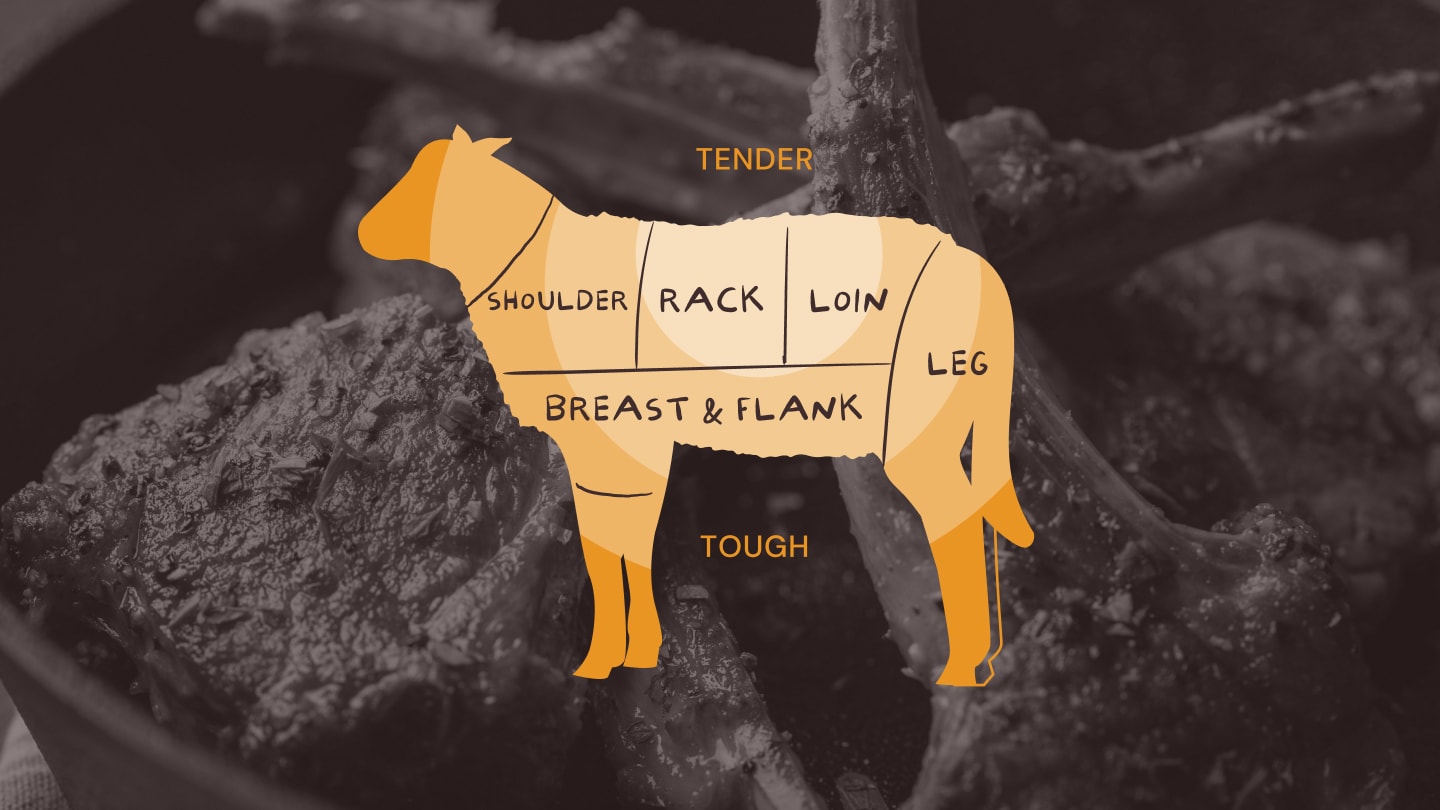 There are typically fewer cut sheet options for lamb and goat shares because they are smaller animals than cows and pigs.
Approximate meat yield for a whole lamb: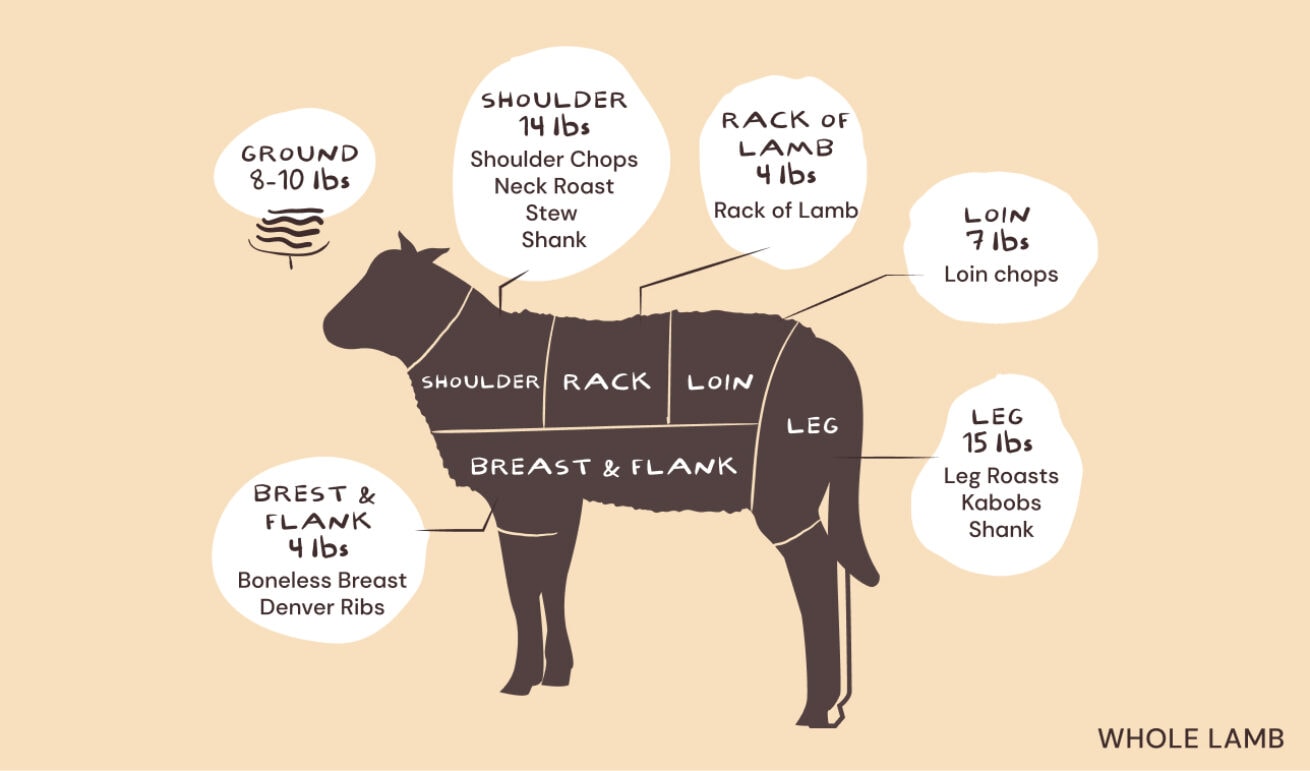 Lambs and goats are similar in their size, butchery and cooking methods, so this information applies to both. Lamb and goats are generally sold only as a whole carcass, the total weight of which is still likely less than a single side of pork. Getting the whole carcass will give you the choice of every cut and format available, especially if you choose to do something different with each side. Typical weights for whole-carcass lamb are 50 to 70 lbs. Goats are typically 10 to 20 lbs. lighter.
Psst: We urge you to consider, or rather, reconsider everything you think you know about mutton (i.e. meat from sheep over two years old). Perhaps our primer on tenderness and flavor will help convince you (it's all in how you cook it). If you buy mutton, you'll get more meat, and more delicious flavor all around.
How to choose lamb & goat cuts
The terminology for lamb & goat cuts includes the four main categories of chops, roasts, cubed, and ground.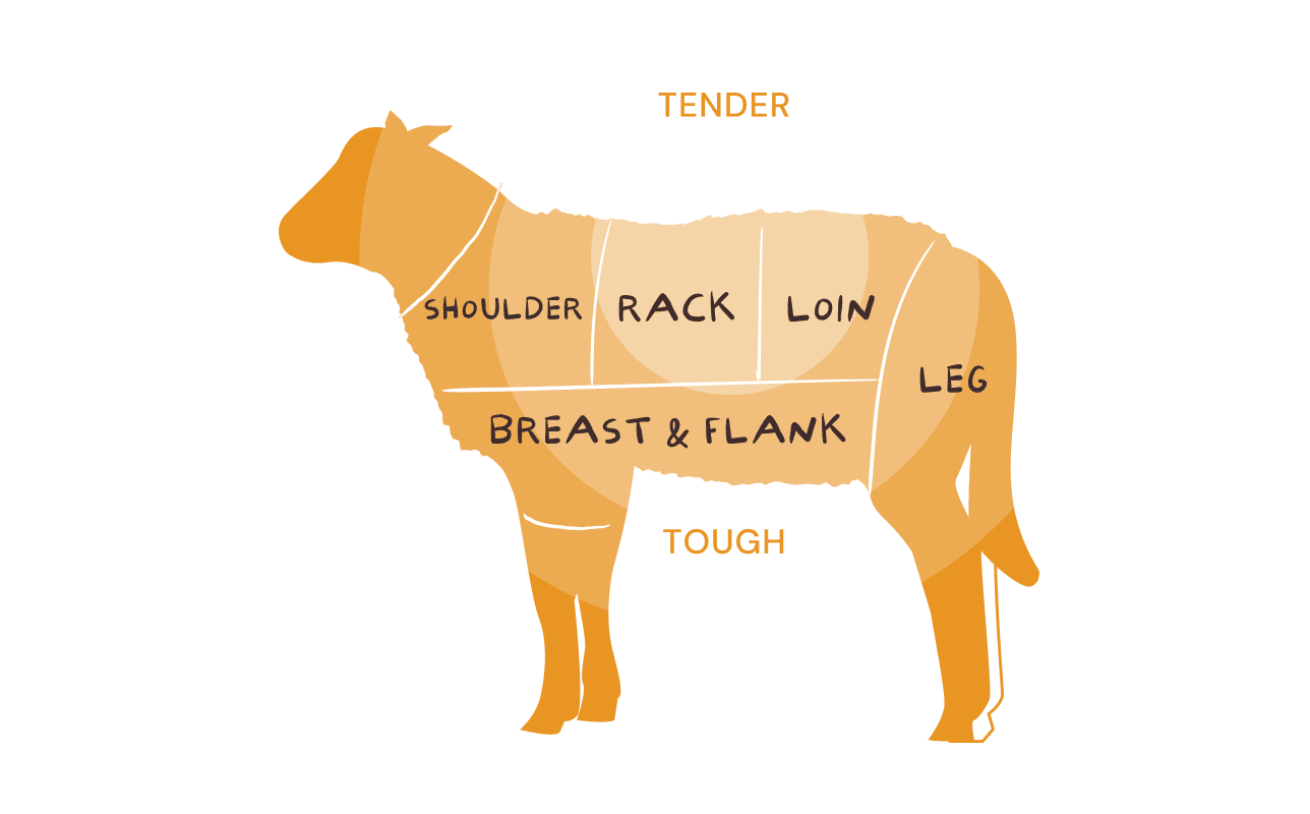 Chops
Lamb and goat chops include rib chops, loin chops, and sirloin. Rib chops will each have one to two ribs, depending on thickness. Loin chops are a "combination cut" and are a portion of the loin muscle and a portion of tenderloin joined together by a bone. Both formats are best in 1-inch thickness.
Roasts
For both lamb and goat, the roast category will typically include leg, rack, and shoulder roasts. The rack is sometimes prepared "frenched," which means they strip the meat from the rib bones. This is solely for appearance. We're big fans of leaving that delicious rib meat on the bone so we can gnaw it off at the table. Lamb and goat shoulder roasts can also be available bone-in or boneless and are the best cut for slow-cooking.
Ground
For other areas that you may or may not want to contend with as individual cuts, choosing ground lamb or goat is always a good versatile option to receive for pasta, meatballs, and stir-fry.
PRO TIP: Given that you will have two sides of lamb or goat to choose from, you may consider turning one side into roasts and the other side into chops and cubed options. This means that one side would provide you with shoulder roast, rack of lamb, and leg of lamb. The other side would provide you with shoulder stew meat, rib chops, and lamb/goat kabobs (from the leg).
RECOMMENDED ASKS: In the category of chops, there is one cut that is above and beyond the most delicious and that is the shoulder chop. It is cut from the rear-end of the shoulder and includes the most diversity of muscles in any chop, increasing the interesting flavors and textures you will get.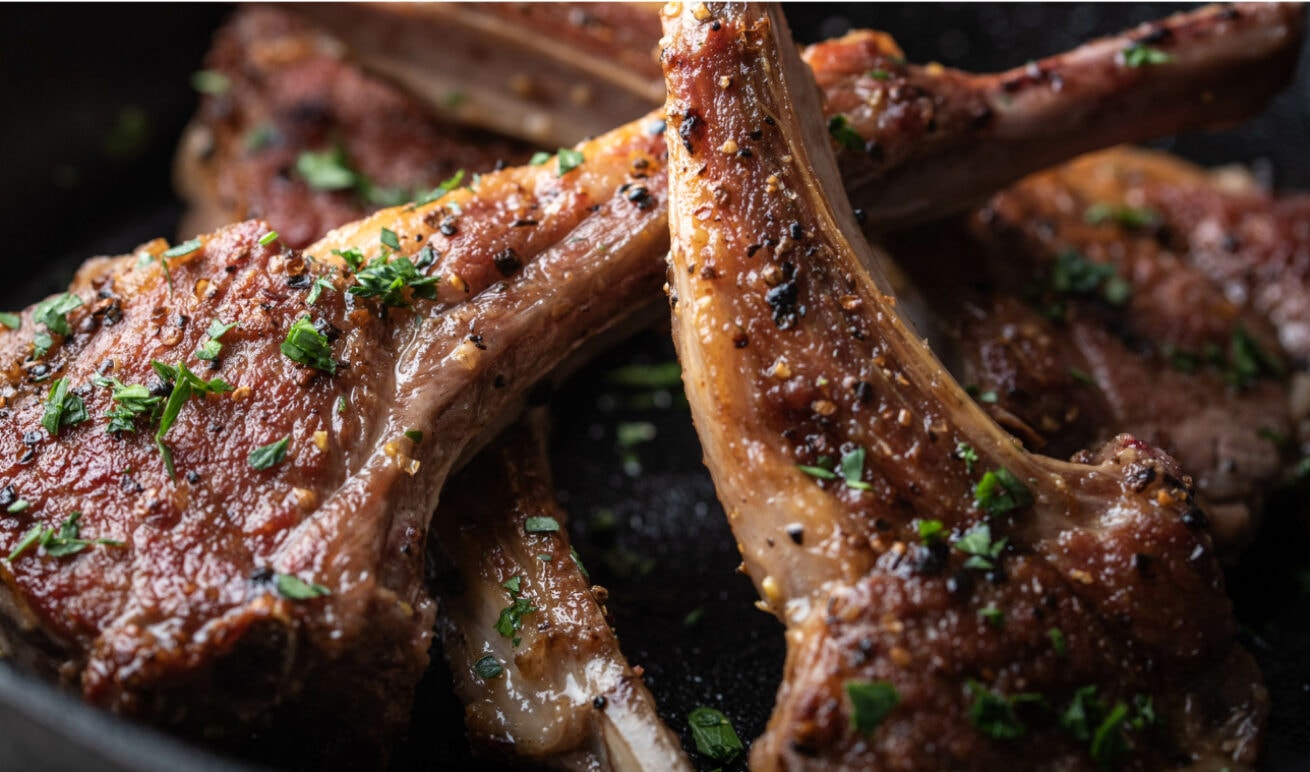 How to cook lamb & goat cuts
We said this before, but we'll say it again, just about all meat tastes delicious if you cook it right. And you'll know how to cook it right if you have a basic understanding of how an animal moved during its lifetime and how an animal's individual muscles typically move and for what reason. But we know that it's impossible to acquire that kind of knowledge and intuition overnight. For that reason, we've created an easy-to-navigate preparation chart to help guide you. We also recommend heading over to our Resources section where you'll find more recommendations for cookbooks, websites, and more to guide you in the kitchen.
Note that we have not included the methods of sous vide or pressure cooking in this chart, because these are methods that can be applied to nearly every cut. We encourage you to try these methods, if you have the equipment to do so.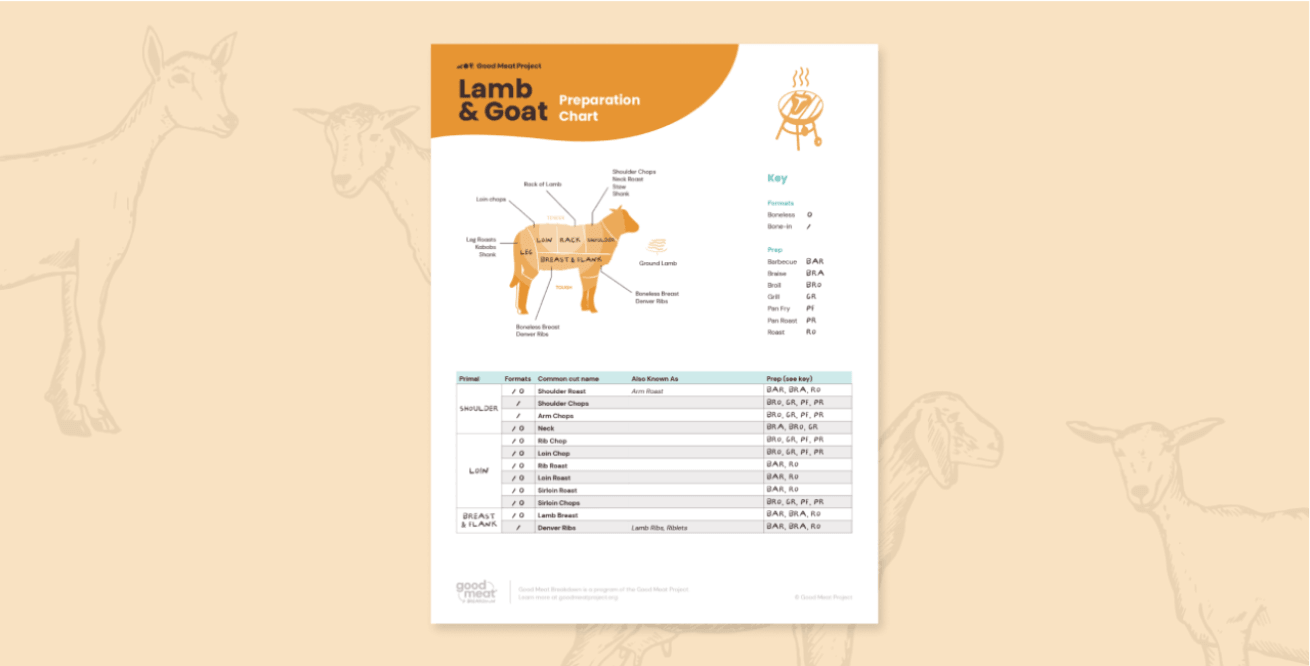 Related article
This handy printable guide summarizes the recommended cooking methods for various cuts of lamb or goat.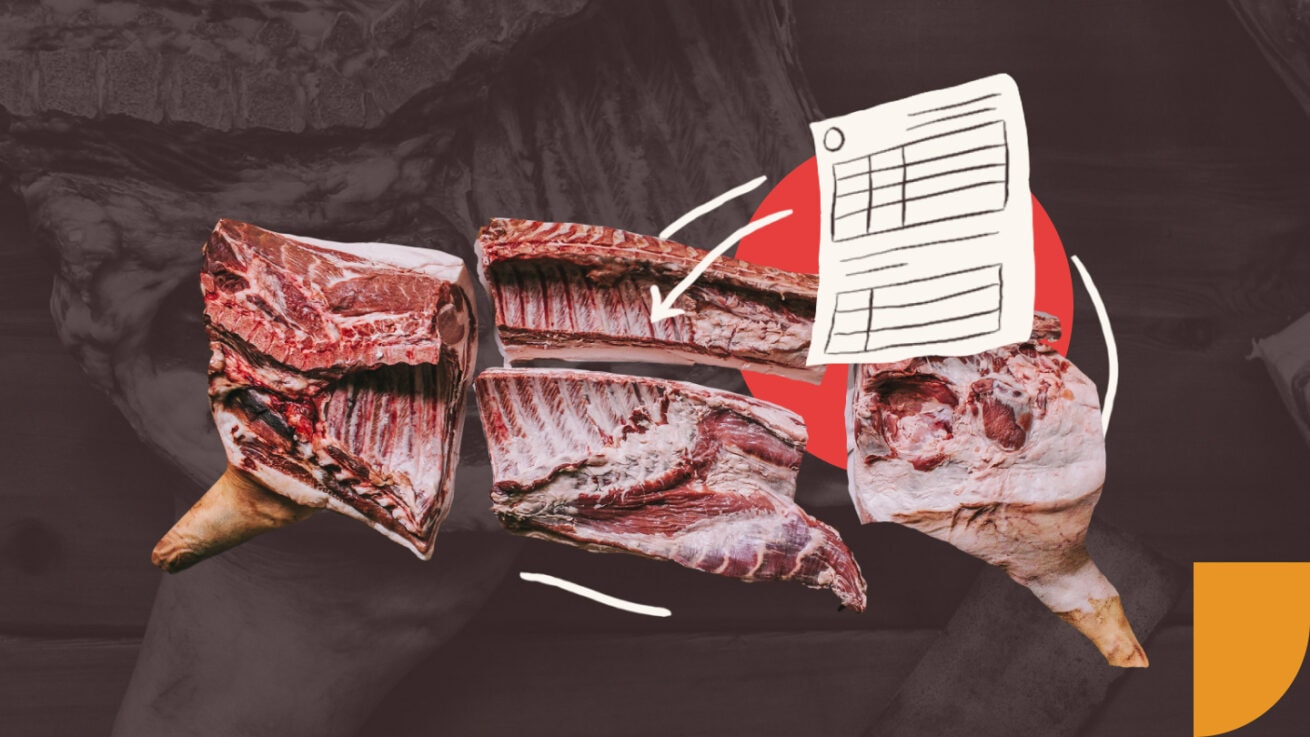 Related article
What is a "cut sheet," is a top round really round, and what really is offal anyway?
Curious about approximately how many pounds of chuck steaks, rib-eye steaks, and ground meat you get from 1/4 beef? And how to cook all that meat?

Now that you've stocked up on local meat and local flavor by buying in bulk from your local Good Meat producer, it's time to cook every cut with confidence. We teamed up with our friends Tia and Matthew Raiford from Strong Roots 9 and Gilliard Farms to create this series of cooking videos.

Curious about approximately how many pounds of ham, shoulder, and belly meat you get from 1/2 of a hog? And how to cook all that meat?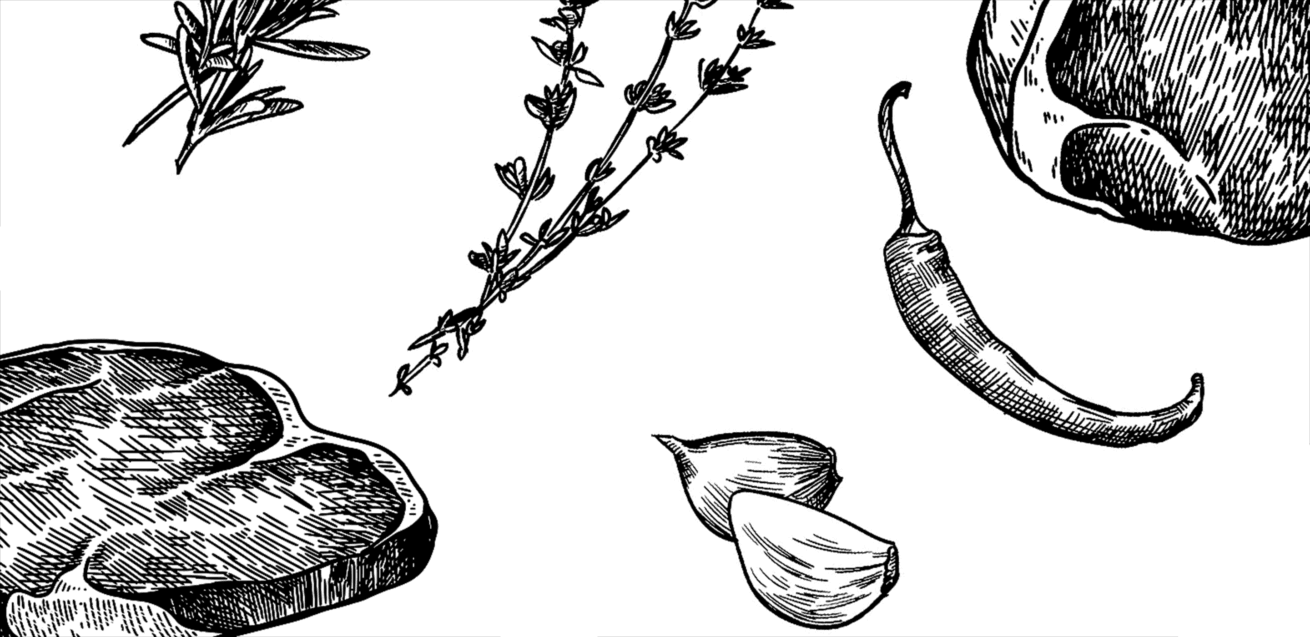 Let's do some good!
Sign up for our newsletter. We'll keep you informed and inspired with monthly updates.